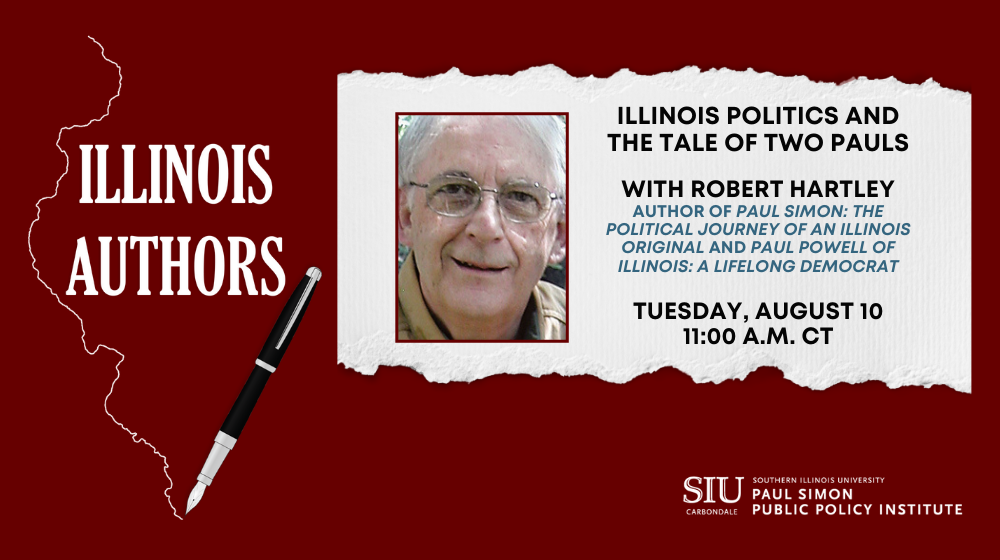 August 02, 2021
Paul Simon Institute launches new 'Illinois Authors' series
CARBONDALE, Ill. – Southern Illinois University Carbondale's Paul Simon Public Policy Institute is launching a new interview series, "Illinois Authors," to create a venue for book events and author discussions focused on Illinois history, politics, economics, sports and culture.
The first "Illinois Authors" guest is journalist Robert Hartley, who has written more than half a dozen books about Illinois history. His virtual conversation, "Illinois Politics and the Tale of Two Pauls" is set for 11 a.m. Aug. 10 via Zoom. Hartley is the author of "Paul Simon: The Political Journey of an Illinois Original" and "Paul Powell of Illinois: A Lifelong Democrat." Simon served in the Illinois House of Representatives and Illinois Senate, as lieutenant governor, and in the U.S. House and U.S. Senate before founding the public policy institute in 1997. Powell served as Illinois speaker of the House and later as secretary of state.
Institute Director John Shaw and Hartley will discuss how the author went beyond the larger-than-life political personas to discover the individual complexities of these two towering figures in Southern Illinois politics.
"Bob Hartley has had a remarkable career chronicling Illinois politics as both a journalist and a historian," Shaw said. "He has a striking ability to describe how politicians think, maneuver, lead and survive."
The event is free and open to the public. Registration is required for access to the Zoom webinar. Register and submit a question for Hartley at paulsimoninstitute.org/event-information.
New series will go on the road
The "Illinois Authors" series builds on the institute's "Illinois 101" initiative, in which more than 20 prominent Illinoisans recommended histories, biographies, novels or essays to provide a nuanced understanding of the state; the recommendations were published in a booklet last year and distributed to schools, civic groups, libraries and public officials.
Although the kickoff event is being held virtually, as the series develops, institute staff envision both virtual and in-person conversations, Shaw said, with future public events in Carbondale, Edwardsville, Springfield, Chicago and other Illinois communities.
"Illinois has been blessed with remarkable authors, and with remarkable stories for these authors to unravel and then explain to us all," Shaw said. "In our 'Illinois Authors' series, we look forward to meeting some of the authors who bring the Prairie State to life."
To be notified of future "Illinois Authors" events, sign up for email notifications at paulsimoninstitute.org/event-information.