October 22, 2019
Federal appeals court judge to present Beatty lecture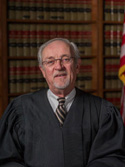 CARBONDALE, Ill. — Judge Michael R. Murphy, who served on the U.S. Court of Appeals for the Tenth Circuit from 1995 until taking senior status in 2012, will present a lecture on "Views from the Bench" at the SIU School of Law later this month. 
Murphy will present the Beatty Jurist-in-Residence lecture at 5 p.m. on Oct. 30 in the Hiram H. Lesar Building Courtroom at SIU Carbondale. The lecture is free and open to the public.
---
Media Availability
Reporters, photographers and camera crews are welcome to attend the Beatty Jurist-in-Residence lecture at 5 p.m. on Oct. 30 in the SIU School of Law Courtroom. For more information, contact Michael Ruiz, assistant dean for Career, Alumni, and Promotional Services, at mikeruiz@siu.edu or 618/453-8763.
---
During his week at the law school, Murphy will visit classes and meet with faculty. He will also participate as chief judge for the final round of the law school's annual National Health Law Moot Court competition on Nov. 2.
"The goal of the Beatty Jurist-in-Residence program is to give SIU law students the opportunity to interact with a distinguished jurist and to learn more about the experiences and perspectives of the judiciary," Dean Cindy Buys said. "SIU Law is proud to have more than 140 judges among its alumni, a remarkable record for such a 'young' law school. Being exposed to judges and learning from them about how their legal careers progressed allows our students to imagine that career path for themselves." 
Appointed to federal appeals bench by President Clinton 
Murphy was appointed to the federal appeals bench by President Bill Clinton in August 1995.  Prior to this appointment, he was a Third District Court judge in Utah from 1986 to 1995, where he served five years as presiding judge. He started his law practice in Salt Lake City, Utah, in 1973.  
Upchurch clerked for Judge Murphy 
School of Law Professor Angela Upchurch worked as a judicial clerk for Judge Murphy from fall 2002 until summer 2003. She assisted Murphy as he prepared for appellate oral arguments and in preparing his written opinions. 
Clerking in Murphy's chambers was a "wonderful educational and professional experience," she said. "He provided each of his judicial clerks with insights into the practice of law and he was a cherished mentor for me early in my legal career." 
Distinguished legal career 
Murphy's chambers are in Salt Lake City, Utah. He earned his bachelor's degree from Creighton University and his law degree from the University of Wyoming College of Law. 
Murphy's honors include: 
Federal Bar Association's (Utah Chapter) 2008 Distinguished Service Award.
Judge of the Year by the Utah State Bar, 1992.
Freedom of Information Award by the Society of Professional Journalists, 1989.
Utah Minority Bar Association Award, 1995.
Creighton University Alumni Achievement Citation, 1997. 
Tenth Beatty Jurist-in-Residence lecture
The endowed program honors the late William L. Beatty, a federal judge for the U.S. District Court for the Southern District of Illinois and is an award granted to the law school by U.S. District Court Judge David R. Herndon, a 1977 SIU Law School graduate. The award honors Herndon's mentor, Beatty, who died in 2001. 
Herndon retired from the federal bench in January 2019 after 20 years.