May 13, 2019
SIU Student Entrepreneurs earn Delta I-Fund
CARBONDALE, Ill. — RocketJOBS, a new start-up company founded by two Southern Illinois University Carbondale graduate students, is getting a boost thanks to the university and a federal program. Deborah and KirkLeroy J. Powell have been selected to receive a Delta Innovation Fund (Delta I-Fund) award to expand their innovative business concept.
High-tech job search assistance
RocketJOBS, a Carbondale-based company, is a technological service that is designed to be a single point of reference for job-seekers, according to Debbie Powell. The RocketJOBs concept utilizes technology to match prospective employees with potential employers through an auto-application process.
Essentially, job-seekers could save perhaps hundreds of hours and minimize errors that occur when inputting online job applications because RocketJOBS searches for potential jobs and submits applications on their behalf.
Award includes funding and other assistance
The I-Fund assistance includes training opportunities and matches the Powells with a dedicated business mentor. It also provides $5,000 in funding for technical assistance, whether in the form of legal help, market research or prototype development.
"The Delta I-Fund program is helping us learn the process of customer discovery and how important this process is on an ongoing basis for any business," Debbie said. "By talking to potential customers, we are able to determine the pain points of those customers and how to pivot our solution to work for the problems they have."
A total of 20 early-stage businesses from 252 counties in eight states in the Mississippi Delta region were chosen.
SIU fosters innovation and entrepreneurship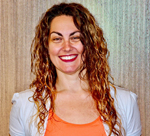 Debbie Powell, of Murphysboro, is studying in SIU's MBA program. Currently serving as president of RocketJOBS, she also earned her bachelor's degree in advanced technical studies at SIU.
With her business development and management expertise, she went to work for Shapiro Metals, processing more than $1.6 million in payments weekly while handling trades payable. Her experience also includes leading a Six Sigma team for Raytheon and winning SIU's elevator pitch competition in 2018, advancing to compete at the Global CEO Elevator Pitch Competition in Kansas City, Missouri.
She has also taught pitch workshops for local organizations and served as treasurer for Saluki Entrepreneur Corps, an SIU registered student organization.
She and her husband, KirkLeroy Powell, are the parents of three children and they have both been active in Saluki Ventures, SIU's student entrepreneurship and innovation program. Open to any full-time undergraduate or graduate student, the program gives students unique opportunities.
"Through Saluki Ventures, the Powells and other members have access to co-working space, hands-on training and one-on-on consultation to move their ideas forward," Deborah Barnett, director of SIU's Small Business Incubator Program, said.
Kirk brings IT expertise to the picture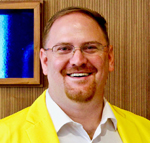 Kirk is currently a graduate student in computer science at SIU. His focus is typically on developing new business adventures relative to the health care, education and business management fields. A native of Eugene, Oregon, he earned a bachelor's degree in computer science with minors in mathematics and philosophy at SIU and also holds a master's degree in entrepreneurship from the University of Tampa.
He's an internet pioneer, building his first successful internet company in 1998. He then transitioned to traditional retail gaming but operated with new technologies. He's a self-taught coder and launched a software business, Vlad, The Game Store App, with the tools acquired through education and experience.
He is a 2016 National Pitch Competition qualifier, coached high school mock trial teams to five consecutive state championship appearances, qualified for the 1996-97 Magic: The Gathering Pro Tour, served on the 2016 MakeSI executive committee and served in student government as vice president of Campus Community Services.
Kirk is now putting his IT expertise to the test with his work on the RocketJOBS automated application assistant that maximizes artificial intelligence and machine learning to benefit job-seekers and employers.
"Debbie's business background combined with Kirk's computer science expertise make them a great business team," Barnett said.
SIU has been spurring business development for decades
SIU's Office of Innovation and Economic Development is home to numerous programs, services and facilities designed to enhance the development and growth of entrepreneurship, innovation and community engagement for students, faculty, staff and community members.
Learn more at econdev.siu.edu, by calling 618/536-4451 or by emailing dbarnett@siu.edu.