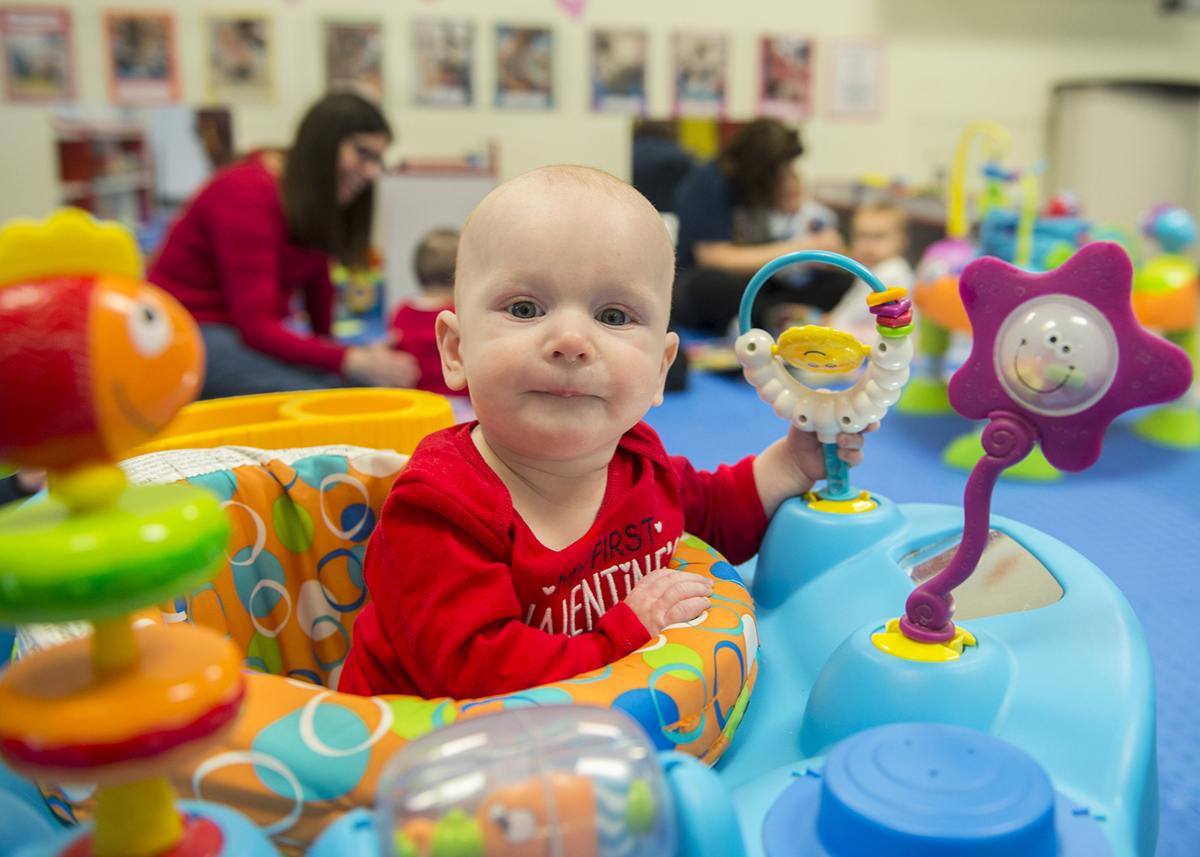 Excelling a child at a time – SIU Carbondale's Rainbow's End Child Development Center has been honored for quality learning and child development by ExceleRateIllinois. (Photo by Russell Bailey)
February 15, 2019
Rainbow's End earns statewide honor for providing quality early childhood learning and development
CARBONDALE, Ill. — Honored for quality early learning and development for children, Rainbow's End Child Development Center at Southern Illinois University Carbondale recently earned the Silver Circle Quality designation from ExceleRateIllinois.
To earn the designation, Rainbow's End went through a detailed self-assessment and also an assessment from outside assessors from National Louis University, said Karen Samuel, Rainbow's End director. The designation shows Rainbow's End earned high level quality marks in classroom teaching, environments and professional standards.
"I am excited about the designation as our teachers and administration have worked so hard on their classroom environments and teaching strategies so that they can achieve high scores on the assessment checklists," Samuel said. "We have an excellent staff, and it is nice to recognize them for being so dedicated and hard-working."
Open to children throughout the community
The center provides licensed child care for children from the age of six weeks through second grade. Located at 650 S. State St., behind SIU's Student Health Center, the center operates from 7:30 a.m. to 5:30 p.m. Monday through Friday. 
Preference is given to children of SIU students, faculty and staff as enrollment in an age group fills up. The cost varies depending on the child's age and also whether the parent is a student, faculty/staff member or from the community. 
Breakfast, lunch and an afternoon snack are provided. The center is licensed by the Illinois Department of Children and Family Services. In addition to numerous classrooms, there is an indoor activity room and three playgrounds. 
Rigorous assessment during application process and on-site visits
To begin working toward ExeleRate approval, faculty and staff did a self-assessment of all of the classrooms and administrative practices, with improvements made where adjustments were needed, Samuel said.
After Rainbow End's lengthy application was approved, ExceleRate staff made an unannounced two-day visit to three of the classrooms, each for three hours. Upon receiving a detailed report, an assessor met with Samuel for several hours about office and administrative practices and the facility scored "very well in this area," Samuel said.
Center features low child-to-teacher ratio
The center has 100 children enrolled at this time, has a low child-to-teacher ratio and participates in the Illinois Department of Human Services Child Care Subsidy Program.    
To learn more about Rainbow's End Child Development Center, visit rainbowsend.siu.edu or visit the center and take a tour. You can also find out more or register a child by calling 618/453-6358.
ExceleRate Illinois has been in place since 2014
ExceleRate Illinois helps families make more informed choices about their children's early learning and establishes standards to help infants, toddlers and preschoolers develop intellectually, physically, socially and emotionally.
There are 279 childcare centers and 170 schools who have earned the silver designation — the second-highest level available.
"Every early learning and development provider who participates in ExceleRate Illinois makes quality a priority," said Cynthia L. Tate, executive director, Governor's Office of Early Childhood Development. "The higher the designation, the higher the program's demonstrated quality and comprehensiveness in meeting children's early learning needs."
ExceleRate Illinois is administered through the Illinois Network of Child Care Resource and Referral Agencies (INCCRRA) under the joint direction of the Governor's Office of Early Childhood Development, the Illinois Department of Human Services, and the Illinois State Board of Education.