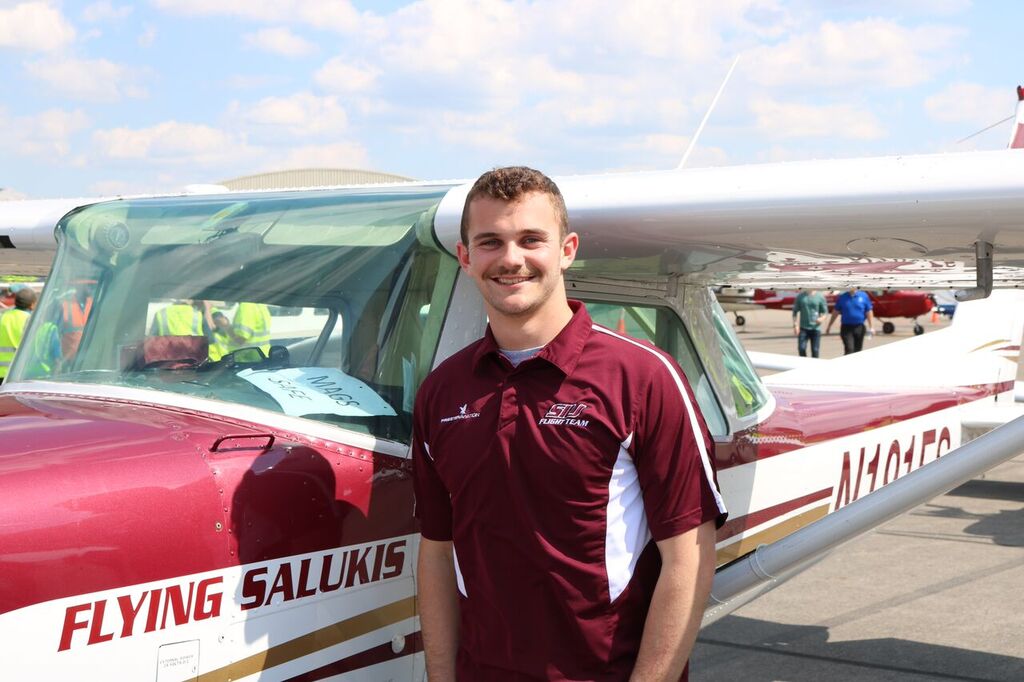 October 30, 2017
Flying Salukis' dominating performance earns trip to nationals
CARBONDALE, Ill. -- The Southern Illinois University Carbondale Flying Salukis' depth and scoring power paved the way for team's seventh straight National Intercollegiate Flying Association Region VIII title Saturday, Oct. 28 at Quincy Regional Airport. 
The Flying Salukis won all eight events – and all 11 event competitors scored – in capturing its 10th regional title in 11 years. Senior Connor Schlottman won top pilot honors and seven team members were among the event's top eight individual scorers. The team's 349 points in just eight events ties for second the Flying Salukis highest point total in regional competition under the existing format; just short of the 355 points earned in 2016 when there were nine events. 
The title qualifies the Flying Salukis for NIFA national competition for the 48th time in 49 years. Lewis University was second with 139 points, followed by Purdue University, 77 points, host Quincy University, 26 points, and Indiana State University, 14 points. 
The 2018 NIFA national competition is April 30-May 5 at Indiana State University and Terre Haute Regional Airport-Hulman Field. The nine-time national champion Flying Salukis finished third last year, marking the seventh straight year the team has finished in the top three in the nation. The team won recent titles in 2011, 2014 and 2015. The team has nine national titles dating back to 1977. 
Results are available at nifa.aero/2017-region-viii-safecon-official-results/. 
Nathan J. Lincoln, who returned to coach the 18-member squad this year after a three-year absence, said the team worked well together and has helped each other at every opportunity. The Flying Salukis will lose Schlottman and Dalton Thompson, also a senior in aviation management and flight for the national competition in May. 
"We have a wonderful foundation to go into nationals with a very competitive team," said Lincoln, himself a former Flying Saluki in the late 1990s. "Not having been the coach for a few years I didn't know what to expect, but I knew we had a lot great competitors." 
Lincoln, a senior lecturer in aviation management and flight, coached the team to national titles in 2011 and 2014. He did not realize how much he missed coaching until the event.
"Practices are one thing but the competition was what made me miss the flight team," he said. "Seeing the students succeed, regardless of whether it is regional or national competition is always exciting." 
The Flying Salukis won both ground and flight event categories. SIU had the top five scorers in computer accuracy; the four top scorers in power-off landing; four of the top five in short field landings, the top two in aircraft preflight and five of the top seven scorers in SCAN, or simulated comprehensive aircraft navigation. Ground events were computer accuracy, aircraft preflight inspection, aircraft recognition and SCAN. Flight events were short field approach and landing, power-off precision landing, navigation, and message drop. The scheduled simulator ground trainer was not included in the event. 
Coming off a seventh-place finish in the nation last season, Schlottman, a senior in aviation management and flight from Henry, Ga., scored 84 points and won short field landing and SCAN. He teamed with Thompson, of Land 'o Lakes, Fla., to win the navigation event. Thompson also won the power-off landing event. Zachary A. Rawlings, a senior in aviation management and flight, won aircraft recognition and teamed with co-captain Jonathan H. Ezell, a junior in aviation technologies from LaGrange Park, to win message drop. 
Robert Kay, a junior in aviation management and flight from Plainfield, won computer accuracy while Trent Medernach, a junior in aviation flight from Batavia, won aircraft preflight inspection.
Finishing behind Schlottman in the top eight scorers from SIU were: Ezell, third; Thompson, fourth; Kay, fifth; Andrew Roadcap, a junior in aviation management and flight from Champaign, sixth; Medernach, seventh, and Rawlings, eighth. 
Team members who also scored were Angel R. Cochran, junior, aviation management and flight, Bloomington; Andrew Finer, freshman, aviation technology, Des Peres, Mo., Colin Heisler, sophomore, aviation management and flight, Mount Prospect, and Brody Wilson, junior, aviation management and flight, Elmhurst. 
Other team members with major and hometown are: Matthew Browning, junior, aviation management and flight, Fayette, Ga.; Sean Cox, freshman, aviation management and flight, Bloomington; Alex Evans, freshman, aviation flight, Burlington; James Loggins, senior, aviation technologies, Murphysboro; Sean Sullivan, aviation management, Crystal Lake; Nicholas Weber, junior, aviation management, Fredericksburg, Va., and Warren Wudtke, aviation management and flight, Palos Park. 
The Flying Saluki assistant coaches are assistant instructors Skyler Droll, Michael LeFevre and Max Reh. 
More information on the university's aviation programs is available at aviation.siu.edu