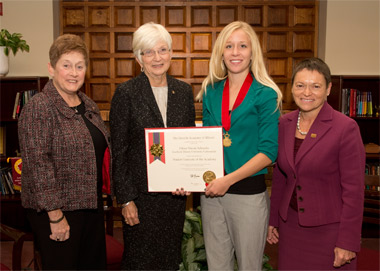 Lincoln Academy student laureate -- Eileen N. Schweiss, second from right, received her Lincoln Academy of Illinois student laureate on Friday, Nov. 22, from Southern Illinois University Chancellor Rita Cheng, right. The award goes annually to one distinguished senior at each of Illinois' four-year colleges and universities, as well as to one student from each of the state's community colleges. Schweiss is a senior in mechanical engineering and a member and captain of the SIU cross-country and track teams. With Schweiss and Cheng, from left are Ethel Holladay, secretary of the Lincoln Academy, and Gayl Pyatt, a vice regent of the academy. (Photo by Steve Buhman)
November 22, 2013
Schweiss named Lincoln student laureate
Carbondale, Ill. -- A Southern Illinois University Carbondale mechanical engineering student is this year's Lincoln Academy of Illinois student laureate. 
Eileen N. Schweiss, a senior in mechanical engineering and a member and captain of the SIU cross-country and track teams, was honored during a Nov. 4 ceremony in Springfield. Schweiss was not able to attend that ceremony, but on Friday, SIU Chancellor Rita Cheng presented Schweiss with the award in Carbondale.
"Eileen is an outstanding student and very deserving of this honor," Cheng said. "She successfully balances the demands of a very challenging degree program along with those of being a student-athlete. The fact that she excels in her studies and in competition says a great deal about her commitment and drive to succeed. Eileen is a wonderful role model for her fellow students and a great ambassador for our university." 
The Lincoln Academy of Illinois presents the award annually to one distinguished senior at each of Illinois' four-year college and universities, as well as to one student from each of the state's community colleges.
The daughter of Janice Kappen Schweiss of Festus, Mo., and Kirk Schweiss of Ste. Genevieve, Mo., Schweiss said she was thrilled when she learned the College of Engineering chose to nominate her for the award.           
"There are many outstanding students graduating from SIU who are deserving of the honor, (so) when I found out I was chosen out of all the nominees for the award I was ecstatic," she said.  "It takes a lot of hard work to balance a difficult major along with all of my extra curricular activities, and it means a lot to me to be recognized for my achievements."           
The Lincoln Academy of Illinois started the student laureate award program in 1975, 10 years after the founding of the academy. Award winners receive a medallion of Lincoln, a certificate of merit and a stipend. The award goes to students who show overall excellence in their fields of study and also a commitment to worthy extracurricular activities.         
Lizette R. Chevalier, associate dean of the College of Engineering, said Schweiss is a dedicated student and campus leader.
"Eileen has excelled in two demanding fields -- engineering and athletics," she said. "In both she has demonstrated a commitment to excellence, leadership and a respect for helping others.  As such, she serves as an exemplary student, inspiring all of us to be the best in all aspects of our lives."
John Warwick, dean of the college, praised Schweiss for her dedication to fellow students.          
"Beyond her excellent efforts in both academic and athletic activities, Ms. Schweiss is also a highly engaged member of our outstanding Engineering Student Council," Warwick said.
Schweiss said her goals include becoming an aerospace engineer after earning a master's degree. She said the honor from the Lincoln Academy will help her achieve these goals.
"It will show potential graduate schools and employers that I am a hard-working and involved student who is highly driven and motivated to succeed," Schweiss said.
Schweiss said the challenges inherent in being both an engineering student and college athlete have sharpened her dedication and commitment to success. SIU has been key to her ability to fit both challenges into her life.
"These are two very time consuming commitments," she said. "It is common for me to miss class due to athletic competitions, and also for me to have classes scheduled at the same time as practice. The athletic department and the engineering faculty have both been very supportive and cooperative in giving me the assistance I need to ensure I am successful at both. My teachers frequently offer to help me learn material I missed from class during their office hours, and my coach is supportive by practicing with me in the mornings when necessary.
"I am often surprised, and always grateful, at how supportive the faculty of SIU are of my endeavors," she said.