October 25, 2013
Flying Salukis take Region VIII title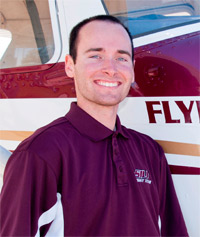 CARBONDALE, Ill. -- Maintaining tradition is important. The Southern Illinois University Carbondale Flying Salukis continued their dominance last week in winning another National Intercollegiate Flying Association Region VIII championship.
Paced by co-captain Dane K. Fearneyhough who earned top pilot honors and was the top scoring contestant, the Flying Salukis put six team members in the top nine slots to easily earn a sixth regional title in seven years.  The finish marks the 44th time in 45 years that the eight-time national champion Flying Salukis will qualify for national competition. 
After winning the national title in 2011, the Flying Salukis have finished third in the nation each of the past two years.
The Flying Salukis finished with 297 points -- one more than when they won the 2012 regional crown. The University of Illinois was second with 150 points, followed by Lewis University, 123 points.  Purdue University was fourth with 58 points and Middle Tennessee State University was fifth with 32 points. The competition was Oct. 15-18 at Purdue University.
The top three teams in the region earn automatic berths to NIFA's national competition, May 12-17, at The Ohio State University.
The team won six of the nine events, and finished first in both ground and flight events. Ground events are computer accuracy, aircraft preflight inspection, simulator ground trainer, aircraft recognition and SCAN, or simulated comprehensive aircraft navigation. Flight events are short field approach and landing, power-off precision landing, navigation, and message drop.
Results are available here.
Fearneyhough, a senior in aviation management, scored 70 points, including first-place finishes in short field approach and landing and power off precision landing.  Other Flying Saluki competitors finishing in the top nine, with their respective finish and major were: fourth, John M. Behnke, junior, aviation flight; fifth, Prescott R. Dean, junior, aviation management; sixth, co-captain Robert W. Hutchinson, senior, aviation management; eighth, Jacob R. Schwarz, junior, aviation management, and ninth, Stephanie J. Armstrong, senior with degree, aviation management.
Freshman George H. Nimmer was first in the simulator ground trainer event while sophomore Kevin D. Grandberry, Jr. repeated his first-place finish in aircraft recognition from last year.  Nimmer and Grandberry are both aviation flight majors.  Sean S. Gipe, a junior in aviation technologies, was first in aircraft preflight inspection, and the team of Armstrong and Michael T. Maughan, a senior in aviation flight were first in the message drop competition.
Nathan J. Lincoln, Flying Salukis coach and a senior lecturer in the Department of Aviation Management and Flight, was pleased with the performance from a predominantly young team.
"This was a really good competition for a relatively junior team," he said.  "We have a lot of newer team members and even the new students we brought in this semester competed very well in their events."
In winning their events first-year team members Gipe and Nimmer were able to go from having no experience to winning individual titles in the space of five weeks, said Lincoln, who was impressed with how the team competed throughout the week.
"I wasn't sure want to expect because we have had so many graduates the last two years. For the new team to come together and compete so well is pretty amazing," he said.
In all, 12 of 18 team members scored points during the event.
"I'm hoping this is a promising sign of what we are going to have for the next couple of years, although you never really know," he said.  "You don't know how much other teams are losing to graduation or able to keep other team members."
The Flying Salukis' history is not lost on new team members, Lincoln said.
"The longer that we are successful at both the regional and national competition the team embraces the fact that we are a top flight program in the country and they embrace the extra effort it takes to be able to do this year after year," he said.
Other team members are Aaron I. Applebee, junior, aviation flight; Jonathan R. Dowell, junior, aviation management; Skyler J. Droll, senior, aviation management; Emily K. Frasca, junior, aviation flight; Kyle E. Hayes, senior, aviation management; James A. Libuszowski, a senior with degree in aviation flight; Davin L. Miles, freshman, aviation flight, and Joshua A. Sager, sophomore, aviation flight.
The three programs that comprise the university's aviation program -- aviation flight, aviation management, and aviation technologies -- are in the College of Applied Science and Arts.
The other Flying Salukis assistant coaches are senior lecturer Kim Carter, also an academic adviser, and assistant instructors Michael LeFevre and Samuel W. Oas.
For more information on the Flying Salukis, contact Lincoln at 618/453-9250, or by email at nlincoln@aviation.siu.edu.  More information on the university's aviation programs is available at aviation.siu.edu/.