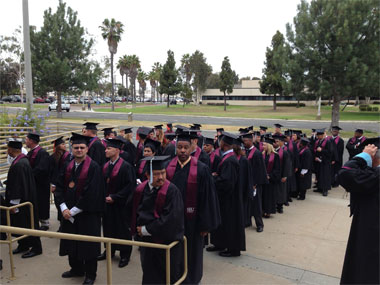 Newest Salukis -- Southern Illinois University Carbondale students who earned degrees through the University's Distance Education and Off-Campus Program participated in commencement exercises Thursday, June 6, at Naval Air Station North Island in San Diego, Calif.  The University is celebrating its 40th year of providing outstanding educational opportunities to military personnel.  SIU Carbondale provides classes to active duty personnel at 21 off-campus military base locations in 13 states. (Photo provided)
June 07, 2013
SIU Carbondale celebrates off-campus graduates
CARBONDALE, Ill. -- Southern Illinois University Carbondale is celebrating the achievements of nearly 115 graduates who are earning degrees this week at two of the University's off-campus military locations.
Consistently honored for its commitment for being among the nation's top military-friendly colleges and universities, the recognition and the season for off-site graduations continues with ceremonies today (June 7) at Walter Reed National Military Medical Center/Naval Support Activity in Bethesda, Md. Ceremonies at Naval Air Station North Island, San Diego, Calif., were June 6. 
"Our servicemen and women sacrifice so much for us, and we appreciate the opportunity to help them achieve their educational and career goals," Chancellor Rita Cheng said. "Just as we celebrated the accomplishments of the members of the Class of 2013 on the Carbondale campus in May, we are pleased to recognize these newest graduates."
There were 32 candidates for bachelor's degrees in the University's Health Care Management and Workforce Education and Development programs in ceremonies in Bethesda, Md.  In San Diego, there were nearly 90 candidates for bachelor's and master's degrees in programs through the College of Applied Sciences and Arts and the College of Education and Human Services.
SIU Carbondale has a longstanding commitment to provide outstanding educational opportunities to active duty personnel and student military veterans.  The University, among the first in the nation to offer off-campus academic programs to military personnel, is celebrating its 40th year with a commitment beginning in 1973 at Scott Air Force Base.
The University provides classes to active duty personnel at 21 off-campus military base locations in 13 states.
For a sixth year the University earned top status as being among the nation's top military-friendly colleges and universities from Military Advanced Education magazine in December 2012.   In September, the University was ranked among the top 15 percent of colleges, universities and trade schools that are military friendly for a fourth consecutive year by G.I. Jobs magazine. 
Upcoming commencement ceremonies, with times and locations, are:
June 14 -- 1 p.m., University Center of Lake County, Grayslake, Ill.; 6 p.m. -- Mount San Antonio College, Walnut, Calif.
Aug. 17 -- 1 p.m., Naval Base Kitsap-Bangor, Silverdale, Wash.
Oct. 17 -- Groton Naval Submarine Base, Groton, Conn.
Dec. 7 -- 10 a.m. – Pensacola Naval Air Station, Pensacola, Fla.; Noon – Joint Base Charleston, Charleston, S.C.
Dec. 14 -- 2 p.m., Naval Air Station Jacksonville, Jacksonville, Fla.
More information on the University's distance education and off-campus military programs is available at http://distanceeducation.siu.edu/index.html or 618/453-3430.